Games

If looking for the most current picture of our equipment, please visit our Facebook page Vegas on Wheels.
BlackJack:
Blackjack also known as "21" is the most popular table game in the casino.  In the game of Blackjack, players play against the dealer but not against the other players.  The objective of blackjack is to stay under 21 while having a score higher than the dealer.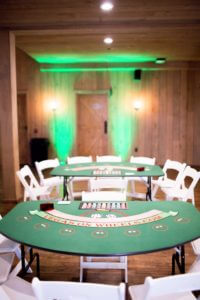 Roulette:
In the game of roulette, players may choose to place bets on either a single number or a range of numbers, the colors red or black, or whether the number is odd or even, or if the numbers are high (19–36) or low (1–18).To determine the winning number and color, a dealer spins a wheel in one direction, then spins a ball in the opposite direction.  The ball eventually onto the wheel and into one of 38 colored and numbered pockets on the wheel.  If the player had the bet on the winning number, color, high, low, even and odd the player wins the appropriate odds. All other bets lose and the game restarts.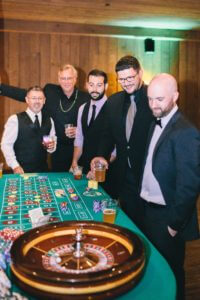 Craps:
Craps is a game sevens.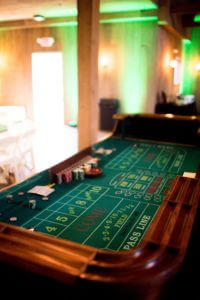 Let it Ride:
A five card poker based game let it ride is a favorite.
Pai Gow Poker:
Caribbean Stud:
Texas Hold'em:
Three Card Poker:
Money Wheel:
Ultimate Hold'em:
Horse Racing: